The Meaning of SADFREE Movement Logo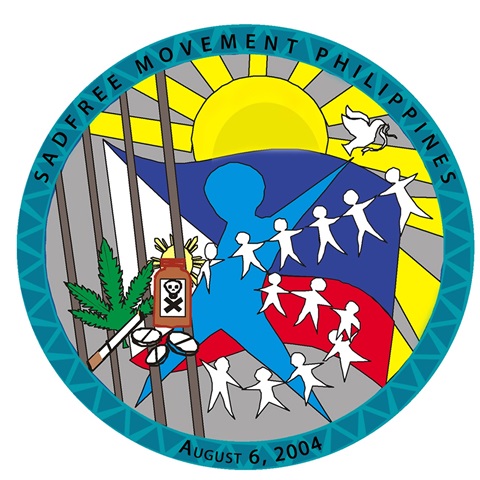 The official SADFREE Movement Logo was designed by Zcess Garcia from San Ildefonso National High School of San Ildefonso, Bulacan, as an entry to the SADFREE Movement logo making contest during its early anniversary celebration. Her entry won the grand prize.
The big blue human form represents a filipino youth being saved by various public and private agencies of San Ildefonso, Bulacan, represented by the small white human forms in form of an "S,"  to save the youth from smoking, alcohol, and drugs (represented by a cigarette, the bottle with an "x" and "skull," and tablet and marijuana drawing respectively). The flag of the Philippines as background represents all Filipino youth who are imprisoned by the vices. The bright sun with its rays in yellow and the white dove represent the bright hope and freedom of the Filipino youth from SAD.
The circle represents the commitment of the movement to continue the advocacy from one generation to another starting on its official launching date on August 6, 2004 to make the Philippines SADFREE country. The circle also represents God who is the unseen prime mover of this organization. 
SADFREE Theme Song
SADFREE naririto
Maaasahan mo
Magtatanggol sa inyo
Makikipag laban dito
Para sa kabataan
Sa lalawigan ng BULACAN
Inyong maaasahan sa magandang kinabukasan
Di n'yo na kailangang mag-alinlangan
Sumama sa grupong ito
Bisyo ay iwasan at ating labanan
Para sigurado sa kinabukasan
Kinabukasan ng pagsama n'yo
Grupo ng SAD FREE lumalaki
Gumagamit ng droga di na dumarami
Tyak na masusugpo
Ang bisyo na gambala
Kapag sumama ka..
Sa aming kampanya…
Magsa-sama tayo
Umiwas sa bisyo
Siagrilyo, alak,droga
Paka iwasan nyo…
    This SADFREE Movement theme song was the grand winning entry of one of the High School students during its early anniversary celebration. Accompaniment is available upon request. Just send an email to genebagop@aiias.edu. 
Comments
26.10.2020 14:27
Ailyn Fernandez
I still remember this song, since I composed this lyrics in Akle High School, together with 2 sections in 4th Year. Thank you SAD Free for chosing this jingle song that I wrote that time.